so it's been a while since the last time I fangirl over Mamo, and I just finished watching FMA Brotherhood telecast broadcast on Animax just to see what kinda voice that Mamo used for this character: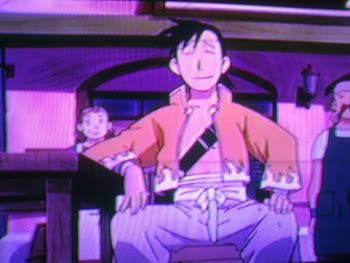 and he used genki voice similiar to Kaji's voice LOL but this character, Ling sounds more stupid and that's why I love him! I watched it in my dad's bedroom and he already fell asleep but I just couldn't help to laugh everytime Ling got his screen time LMAO and I ended up laughing loudly when Ling insisted to go to the Central with Ed xD
I'm not a fan of FMA series, I watched a few episodes with my brother (who is a big fan of FMA) and I liked it, but I didn't intend to continue watch it, and now thanks to Mamo I'll watch it regularly. I guess I need to set a reminder so I won't forget to watch it next week. yay, from the preview of ep. 16 it seems like Ling will tag along with Ed and Al for a while to go to the Central. can't wait for next week!!