actually I never put lyrics in this LJ but.. this time it's a special case :D 'cause I'm having a hard time remembering the lyrics only by listening to the song and never read the lyrics.

I've been humming Harukanaru Toki no Naka de 4 ED song lately, and I really really love that song T_T so I went looking for the lyrics.. but first I have to find out who sing it first! then came this name

Takiguchi Yukihiro

(滝口 幸広). I felt like I recognize that name before.. it couldn't be...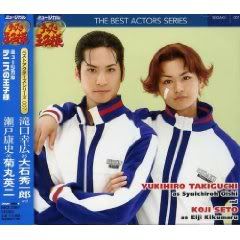 and OMG yes it's the one who plays the Oishi Shuichiro of Golden Pair with my beloved Seto Koji in tenimyu!!! ~____~ they're my favorite Golden Pair ever!! <3 and I have to admit he sings well!

back to topic.. so I finally found the lyrics and could sing a long, yay!! =3

Shinpi no Rasen by Takiguchi Yukihiro

Kurikaesu jikan no nami
Kurikaesu shinpi no rasen
Kurikaesu mugen no inori
Hito wa itami daite mezameru darou...

Ama wo kakeru fune
Aoki sora wo yuku
Soshite maioriru anata

Dare mo todokanai sonna shinjitsu wa
Keshitenai no da to omou
Keshitenai

Kurikaesu jikan no nami
Kurikaesu shinpi no rasen
Harukanaru toki wo koereba
Hito wa kawaru mabushiku tsuyoki mono ni...

Nanimo kawaranai sonna eien wo
Kitto kaeru koto chikau
Kaerareru

Kurikaesu hakanai yume
Kurikaesu mugen no inori
Harukanaru toki wo koereba
Hito wa deai wakare mata meguriau...

Tenbin ga hohoende yureru
Me wo tojita ryuu
Sono koe wa ou-taru mono dake shika
Kikenu koe naki koe

Kurikaesu jikan no nami
Kurikaesu shinpi no rasen
Harukanaru toki wo koereba
Hito wa kawaru mabushiku tsuyoki mono ni...

Kurikaesu hakanai yume
Kurikaesu mugen no inori
Harukanaru toki wo koereba
Hito wa deai wakare mata meguriau...

credit:
twistedhalo711

also.. since I just finished watching Gundam 00 2nd season this morning, Marina Ismail's (Ayumi Tsunematsu) song is filling my head too :D the meaning is soooo good and I really really like this song! the first time I heard that song when my brother played it (at that time, I haven't watched gundam 00) I said "what's with that song? it sounds as if it's a song for orphans!"

ah well, actually it was sung by the orphans in the anime, and Marina Ismail too. anyway, I should put the lyrics too here ^_^

TOMORROW (Gundam 00 2nd Season's insert song by Ayumi Tsunematsu as Marina Ismail)

Nakusu koto ga hirou tame nara
Wakareru no wa deau tame

"Sayounara" no ato ni wa kitto
"Konnichi wa" to deaun da

Midoriiro shibafu ni nekoronde itai
Doubutsu mo issho ni gorogoroshitai

Kyou wa ii koto ga takusan atta kara
Asu mo ii koto ga takusan aru you ni

O-hi-sama dete yuuhi kirei de
Hoshi ni negai ashita ga kuru

Doushite icchau no?
Issho ni kaerou


Kenka o shite ano ko ga naite
"Gomen nasai" ienakute
Kokoro no naka sakebi naite mo
Kotoba ni shinakya dame da yo

Arigatou arigatou boku no o-tomodachi
Aitai na atarashii tomodachi no minna

Kimi to te o tsunagu
Sore wa tsubasa ni naru
Minna no te tsunagu
Oozora mo toberu

Warau warau ooki na koe de
Yonde yonde daisuki na…

Niji-iro kakehashi watatte "okaeri"


O-kane ga ne atte mo tomodachi wa kaenai
Nani mo nakute mo ne minna ga irun da

Minna kiite boku-tachi no yume
Minna shitte boku-tachi o

Anata wa doushiteru?
Boku wa ne genki da yo

Anata wa doushiteru?
Boku wa ne genki da yo

credit: I forgot where I got this *__*

ahhh by the way, Gundam 00 is my first gundam anime and I REALLY REALLY LOVE IT! *____* it's kinda rare for me to watch about 7-8 episodes in a go and this anime could make me watch 25 episodes in less than a week, which means this anime is really worth-watching!!
I wanted to watch Gundam SEED too, but I gave up before watching. it's 100 episodes including the sequel, Gundam SEED DESTINY, gah! when will I finish watching it, next year? =_=

I also like the 2nd ED song, "trsut you" sang by Ito Yuna. I already like the song even before I watch the anime, but.. I like the song even more after finish watching gundam!! D: 'cause how they put the song into the anime scenes are just wonderful (mostly parting scenes, which is really really sad!)

but I can sing it already before looking for lyrics :D

I love you, I trust you. Kimi no kodoku wa wakete hoshii.
I love you, I trust you. Hikari demo yami demo.
I love you, I trust you. Kanashii demo yorokobi demo.
I love you, I trust you. Ai wo oshietekureta.

see? 'cause I listen to it almost everyday xD
now I can barely open my eyes so I'm going to bed *_*